Member
Administrator
Forum Moderator
Article Contributor
Joined

Jul 15, 2021
Messages

88
Reaction score

90
Points

18
Location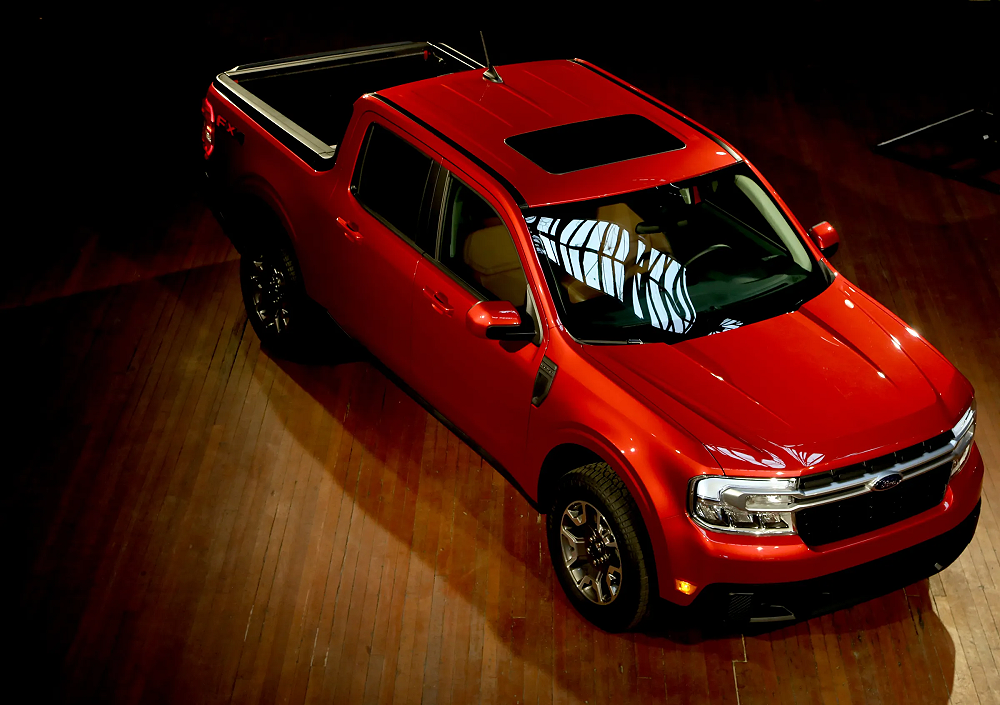 Ford Motor Co. has confirmed 100,000 reservations so far for its all-new little 2022 Maverick pickup that hasn't been built yet.
The hybrid compact pickup was just revealed in June, and it's the only pickup with a hybrid base model.
The most reservations have come from consumers in California, Texas and Florida — specifically Los Angeles, San Francisco, Houston and Orlando.
When the Maverick was revealed on June 8, consumers could go to the website to place a non-binding reservation, which basically flags dealers who consider the alert a hard lead for follow up. Some reservations have converted to orders, but Ford is not releasing details yet.
The free press made calls to Ford Dealers in Florida, Texas and Michigan and discovered: one couple has already sold their car while they wait. A salesman who averages 30,000 miles a year said he can't afford not to own a pickup that delivers 40miles per gallon. A 5-foot tall woman with a history of being loyal to Honda said an affordable and comfortable small pickup truck is just to good to resist.
"Toyota Tacoma has dominated mid-size pickup share in California, Florida, and Texas," said Dawn McKenzie, Ford truck communications manager. "The all-new Ford Maverick is America's first standard full-hybrid pickup with city fuel economy that beats a Honda Civic, plenty of towing and hauling for weekend trips or do-it-yourself projects, and it starts at $19,995."
A dealer in Texas says the conversion rate from reservations to orders is steady.
"This is very exciting for us." said Sam Pack, president and CEO of Pack Auto Group based in the Dallas metro area. "We had just under 700 reservations in our four dealerships. That's exceptionally strong. We're converting at about 25-30% rate right now. That's significant."
Many of the orders do not include trade-ins, he said. But data from his dealerships indicate that the majority of pending trade-ins are coming from Maverick customers who have purchased other brands previously, most significantly Honda and Toyota, Pack said. These are called "conquest" trades and it's a point of pride in the industry, to take in vehicles from competitors on trade.
More the half of the orders are coming from men under age 40 who are spending more than the base prise to customize their pickups, he said.
'Man ... What I'm Looking For'
Wayne Tipton, 60, a salesman from Jacksonville, Florida, will trade in a 2012 Ford Escape and add a new Maverick to a family lineup that includes an F-150, a Ford Explorer SUV and his daughters Subaru Forester compact SUV.
"Sometimes you need to put stuff in the back. A truck is more flexible." said Tipton. "Probably the overriding reason? The hybrid model. When I saw it, I said, 'Man that might be exactly what I'm looing for.'"
Maverick VS Toyota Tacoma
Meanwhile, Cathy Gall alerted her husband to the hot new pickup after doing early research on YouTube.
"For many years, I've wanted a pickup truck but I had reservations about big trucks. I not only didn't need all that, I'm short. And I have an 80-year-old mother and I didn't want her using the side rails to get in. I've always really liked the Toyota Tacoma, but their price isn't great for what they are."
The Tacoma starts around $26,400 and gets up to 23 miles per gallon.
"I'm not pulling cattle," Gall said. "I needed something more practically suited to somebody who was loading up the furniture from the Goodwill to refinish. This price point was amazing. I said to my husband, 'I think I want a new truck from Ford, a Maverick.' And he said, 'What's that?'"
She ordered Cactus Gray through Bozard Ford. Gall, 55, a technical writer in Jacksonville, and her husband Ron, 56, a TV ad sales account executive, surrendered their 2017 Ford Escape while they wait for the Maverick to be built. They still have their 2020 Ford Fusion.
Both Tipton and Gall make up more than 30 commitments to buy, said Jeff King, vice president and general manager at Bozard Ford Lincoln in St. Augustine, Florida.
While so much attention has been heaped on the all-new Ford Bronco and all-electric F-150 Lightning, consumers seem to be wowed by the perks and pricing of the little pickup, King said.
"That's a steal," he said of the Maverick price tag. "Gas mileage is a big plus. And there are a lot of people who are environmentally conscious now. The hybrid word on there is very nice. It's a win-win."
'Right time'
Historically, compact trucks have not seen much success in the U.S., but Americans do appreciate good value, said Jessica Caldwell, executive director of insights at Edmunds.com car shopping site.
"With passenger cars dropping rapidly from the market, the Ford Maverick may have come along at the right time. Offering an inexpensive vehicle with utility and compelling fuel economy ticks a lot of boxes for consumers."