Suspension Lifts
Showing all 2 results
Looking for a lift kit for your Ford Maverick? Check out these offerings.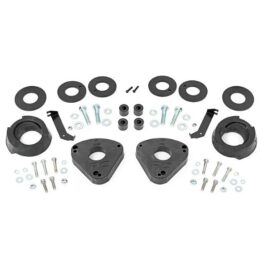 Rough Country Ford Maverick 2-Inch Lift Kit
Overview:
Improved Ground Clearance and Ride Quality.
 Take your Ford Maverick to new heights and add a more aggressive appearance with Rough Country's 2" Lift Kit! From the factory, the Ford Maverick sits lower in the front than the rear, creating a nose-down look that leaves a lot to be desired.
Innovative Design and Construction.
 This easy-to-install kit offers increased ground clearance and levels the vehicle from front to rear for a more aggressive look. Rough Country's 2in Lift Kit features front spacers and preloads made from a heavy-duty nylon construction that will stand up to the test of time. Also included are rear upper and lower coil spring spacers and all the necessary hardware for installation!
Installation. 
Requiring minor grinding and use of a strut compressor, an estimated timeframe of 3-4 hours is predicted to complete the installation process.
Limited Lifetime Replacement Warranty.
 Rough Country's 2" Lift Kit is backed with a limited lifetime replacement warranty towards manufacturer defects. As such, the product is protected from structural and workmanship damage after the date of purchase. With our industry-leading warranty, give yourself peace of mind when using Rough Country Suspension products!
Features:
Levels the front of the truck with the rear.
Allows for fitment of larger tires.
Increased ground clearance.
Notes - Important:
Does NOT fit hybrid models at this time.
Recommended Tires & Wheels:
Size: 245/70R17
Wheel: 17x8
Bolt Pattern: 5x108
Offset: +38
Buy Now:
not rated
Buy Now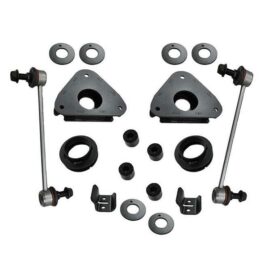 Superlift Ford Maverick 2.5-Inch Lift Kit
Add a more aggressive appearance to your 2022 Ford Maverick 4WD with Superlift's 2.5" lift kit! The Ford Maverick sits very low from the factory so this 2.5" lift kit is a perfect solution to gain height for a larger tire. This 2.5" kit comes complete with strut spacers, OEM style sway bar links with relocation brackets, rear coil spacers and trailing arm spacers…everything you need to do the job right. Superlift's 2.5" Bronco Maverick lift kit also comes with a lifetime warranty!
Features:  
HD strut spacers
OEM style sway bar links
Sway bar relocation brackets
Benefits: 
More aggressive stance
Increased ground clearance
Allows for larger tires
Levels front to rear
Recommended Tires & Wheels:
Tire Size: 245/65 R17
Wheel: 17x8
Offset: +35 to +38
Buy Now:
not rated
Buy Now