Ford Red White and Blue V8 Genuine Parts Sign
FORD OFFICIAL PRODUCT : Have you ever wanted to just take a cool sign off your mechanic's wall? Don't do that. He has big wrenches. Pick up this one instead. Features a fun dimensional shape that quite literally stands out wherever you hang it.
FUN VINTAGE SIGN : This retro Button Sign will have your guests asking questions of where you found it and loving the vibe. Great weathered look and feel.
MATERIAL : Constructed with Embossed Metal for a sturdy and top quality feel. This is meant to not only look vintage but to become vintage itself.
PLACES TO USE : Perfect for garages, sheds, man caves, bedrooms, offices and many more locations.
SIZE : 24″ W X 24″ H X 1.9″ D
Buy Now:
Related products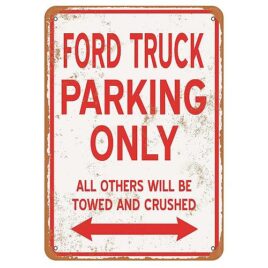 Ford Truck Parking Only Sign
MADE ENTIRELY IN THE USA of sturdy and durable American-made aluminum, this 7-inch by 10-inch (7" x 10") metal sign gives the effect of aging with simulated rusted edges and scratched and faded paint. It has smooth rounded corners and includes pre-drilled mounting holes. Suitable for indoor or outdoor use, this sign is weatherproof and won't fade in the sun for many years. Our individually handcrafted signs are perfect for kitchens, bathrooms, doors, garages, man caves, cubicle walls -- any place you'd like smaller, very unique signs. Note: While these signs may appear to have raised letters, textured rust or embossing, they are actually perfectly flat. These are images that are baked onto a metal sign. The texturing or embossing may look real, but these signs are completely flat and not textured. MADE ENTIRELY IN MINNESOTA by American Workers using American-Made Materials
This Metal Sign measures 7 inches x 10 inches
Simulated "rust" to give the vintage effect of aging (we can make it without the vintage rusty look, just Contact Seller after you order).
Made of outdoor durable aluminum with a beautiful satin, non-glare finish, smooth rounded corners with mounting holes.
Buy Now:
not rated
Buy Now