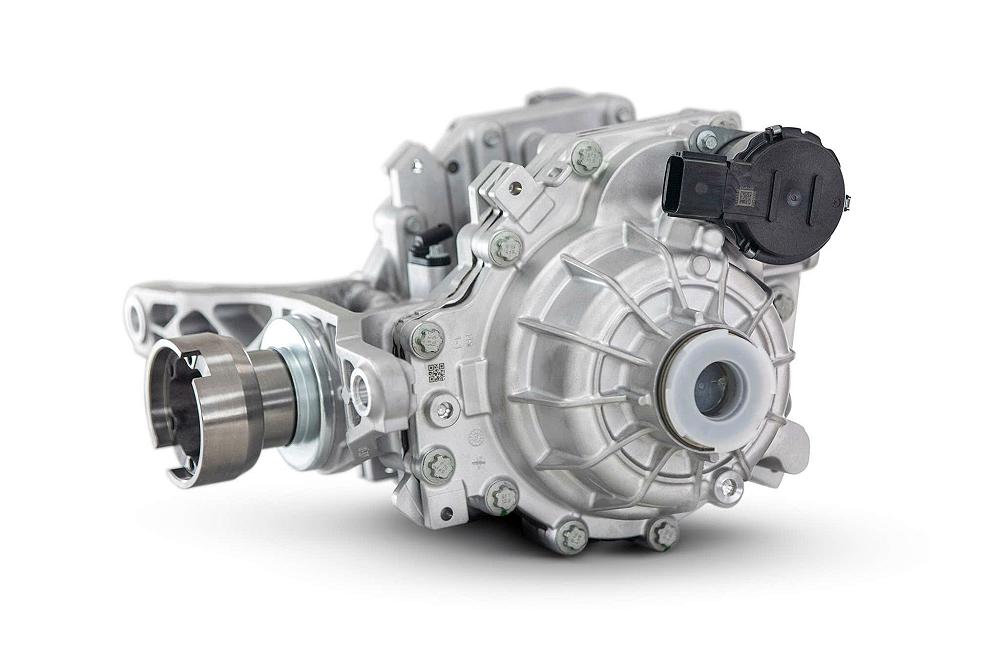 The Twin-Clutch rear drive unit that can shuffle 100% of torque to either wheel and simulate a locking differential
More than traction control, new AWD systems are getting very good at optimizing traction. Take for example the Ford Maverick / Bronco Sport optional AWD system. Supplied by DANA, it's an on-demand AWD system. This system uses a cooled Power Transfer Unit or PTU that attaches to transaxle and sends power to the Rear Drive Unit, or RDU.
The RDU has (2) clutches, one on each axle shaft that takes the torque from the prop shaft and distributes it to the wheel that needs it. These (2) clutches handle front-to-rear as well as side-to-side speed and torque biases, effectively eliminating (2) differentials, the center, and rear. When AWD is commanded, the (2) rear RDM clutches engage at the same time, allowing torque to go to the rear axle. When turning sharply, the computer partially disengages the clutch on the inside wheel of the RDM allowing it to slip to deal with the speed difference a differential would normally handle. When you "lock" the "rear diff" you are commanding more pressure more often to those clutches. The buttons are programming tricks to tell the computer you prefer traction over smooth on-road driving but "lock" nothing, not really.
Even when "locked" the systems will know to allow the required slip for turning for example. Despite this, the system is very effective, allowing for at least half and probably more up to 70% or so of the engine torque to go to the rear axle and "almost all" that torque to go to a single rear wheel. The front differential is your run-of-the-mill open type and is managed through braking individual wheels to simulate traction on a slipping wheel and allow more torque to go to a gripping one.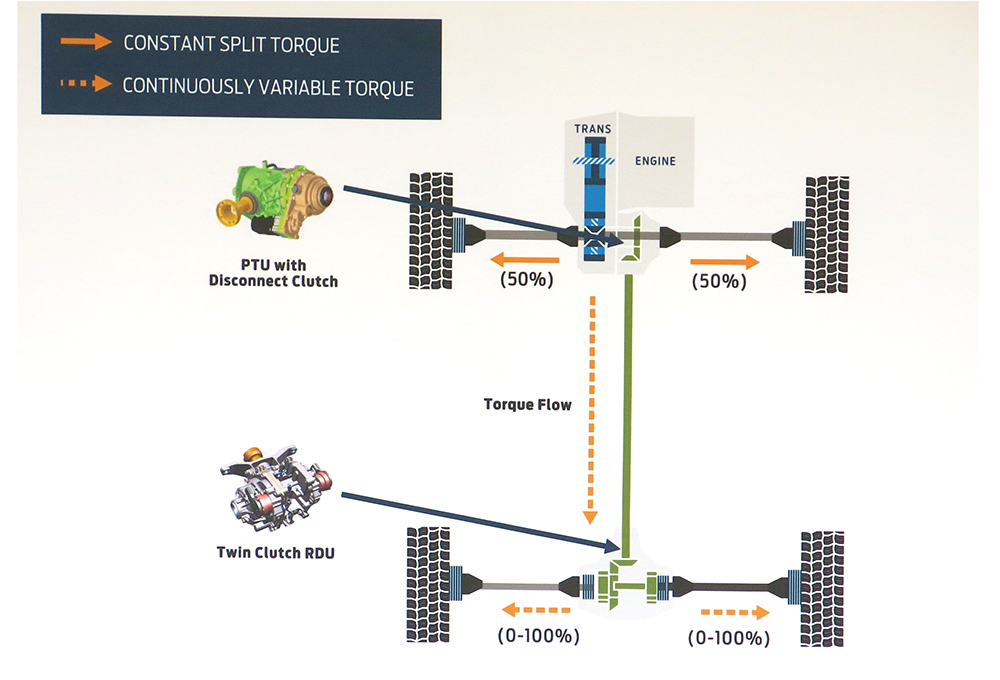 The RDU helps deliver surprisingly good off-road performance through a driver-selectable, multi-mode control interface and locking capability.
Part of Dana's AdvanTEK Ultra driveline-systems family, the twin-clutch RDU shares clutch packs with the company's single-clutch drive unit that launched at Ford in 2019 on the CD4 Edge, then carried over to the base Escape. "Its natural evolution is into Bronco Sport, where Ford wanted something peppy," noted Andy Perakes, director of axle engineering at Dana's Light Vehicle Drive Systems. "Sharing identical clutch packs enables a common control interface on the vehicle, so Ford didn't have to go in and change their CAN messaging and all their communication protocols. And the design makes it easy to scale." The twin-clutch version includes a second actuator motor.
Dana's design focus with the AdvanTEK family is mechanical efficiency. Its unique hypoid design, along with a purpose-formulated axle lubricant, enables the axles to deliver fuel efficiency savings equivalent to a 200-lb (90.7 kg) weight reduction, as estimated by the U.S. EPA.
'We kind of reversed the design philosophy there. Instead of starting with the gear design and then adding the lube, we started with the lube design," explained Perakes, himself a Ford Powertrain veteran before joining Dana. "We started with a very low-viscosity lube – its viscosity is comparable to an ATF. There are some trade-secret enablers to this, but it enabled us to use a common lube throughout the entire system, for both the clutch pack and gearset."
The AdvanTEK Ultra is designed to minimize churning losses and, combined with the dedicated lubricant, deliver "much lower operating temperatures," said Ryan Keeler, Dana's engineering manager for Light Vehicle Drive Systems. "It allowed us to kill two birds with one stone. There is no need for an external cooler.
Easily Tunable
The 'lubed-for-life' twin-clutch RDU adds about 10 kg (22 lb) to the mass of Dana's single-clutch AdvanTEK unit. Dana supplies the "low level" control software that responds to vehicle-level torque commands from the AWD system, Keeler noted. High-level controls and vehicle calibrations are handled by Ford.
With attachment points shared with its single-clutch cousin, the AdvanTEK Ultra RDU required no modifications to the C2 rear subframe. "It was essentially a drop-in," Keeler said. "And it's easily tunable through minor design changes – addition or subtraction of clutch plates, for example, or upgraded materials, to meet customer requirements."
And with Ford developing a unibody pickup based on the C2 architecture, the bandwidth for Dana's RDU may be further expanding in concert with Ford's platform.