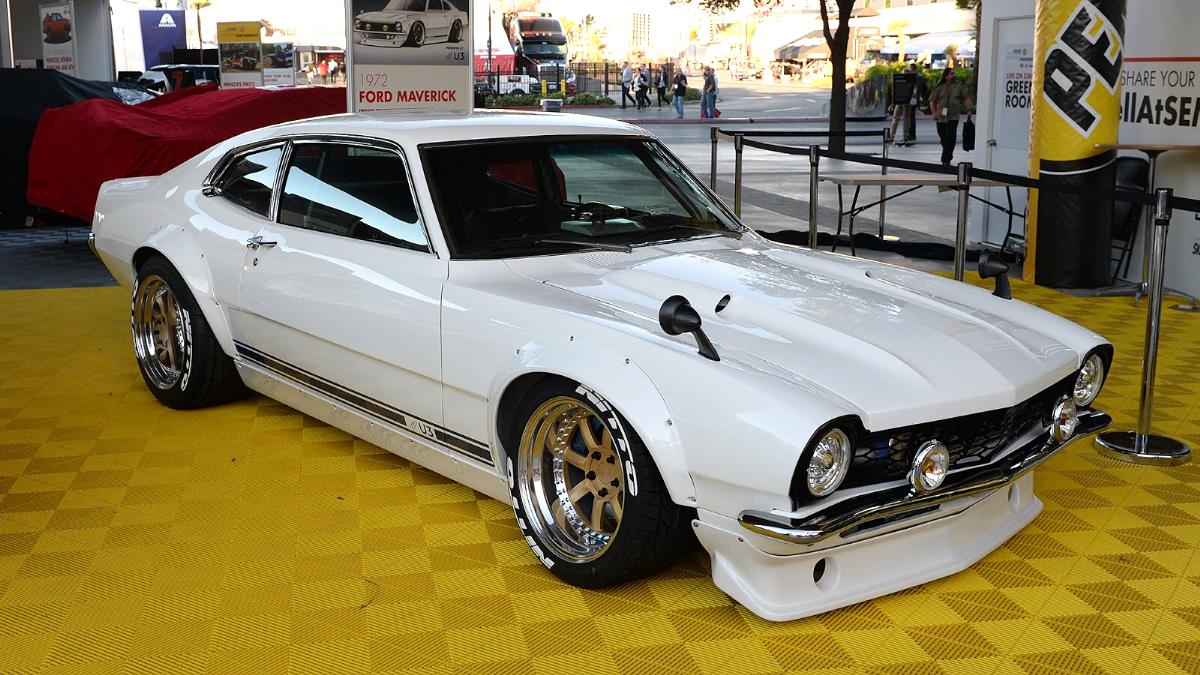 Fast and Furious star Sung Kang is not only an actor, but a car enthusiast as well. the 'Project Underdog' 1972 Ford Maverick is a car that three teenagers from Alhambra High School in California built with the help of Sung Kang and Steve Strope from Pure Vision. Not only did these students have the opportunity to work on a cool car with a famous actor, they will also receive funds for college when the car goes for auction. Proceeds from the car's sale will benefit the teens, as well as the general SEMA Memorial Scholarship Fund.
Kang fell in love with the Maverick after driving one around while filming in Brazil, and brought Strope in to assist the high schoolers in turning what was a stock Maverick in to the car you see here.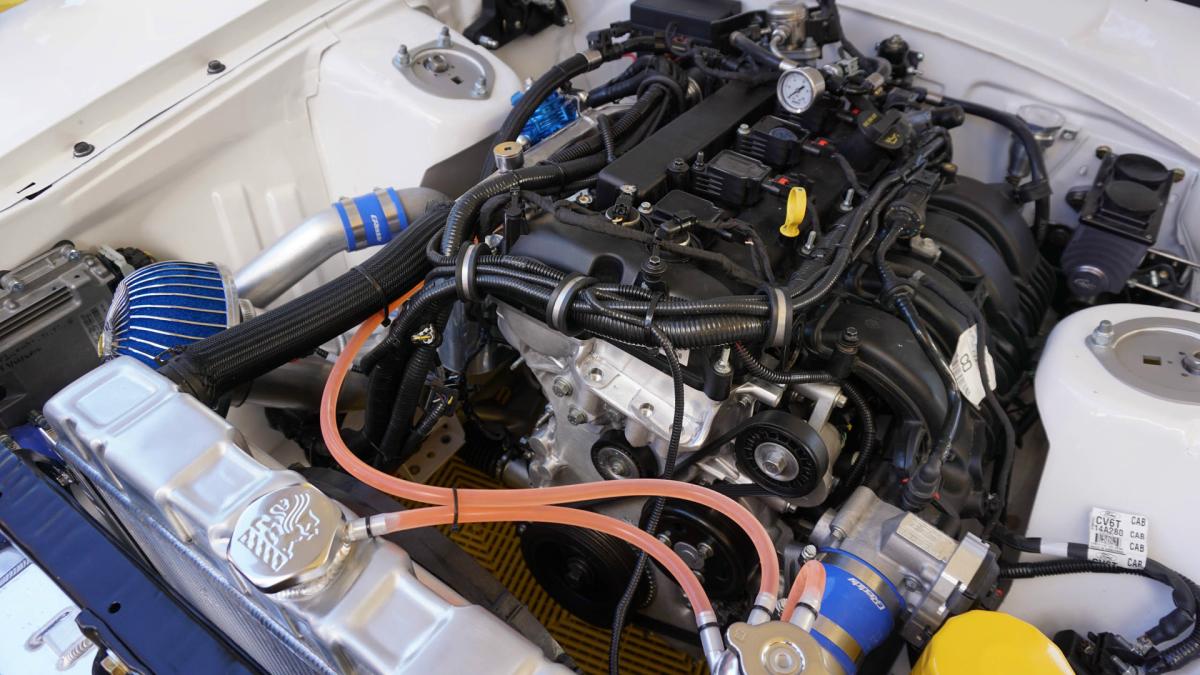 The car was originally slated to get a conventional V8 swap, but Kang later decided to go with the 310 horsepower 2.3-liter turbocharged 4-cylinder from the Ford Mustang, which he said is a tribute of sorts to the Brazilian market Maverick that came with a four-cylinder. The Maverick also got the Mustang's 6-speed manual transmission.
The car also received a custom body kit from famed kit designer Rocket Bunny, as well as a Maverick Grabber-style hood and trunk lid made from carbon fiber.
Specifications:
Owner: Sung Kang
Hometown: Los Angeles, CA
Sponsor: Pennzoil
Engine: Ford Motor Company 2.3L EcoBoost; GReddy turbocharger, cooling system, exhaust, air intake, catch can and intercooler; Aeromotive fuel pump and fuel filter; BBK throttle-body; Griffin Thermal Products radiator, fan shroud and electric fan
Drivetrain: Custom Tremec Manual six-speed transmission, shifter, T/O bearing, clutch master cylinder and shift knob installed by American Power Train; Currie Enterprises rear end; Lakewood bellhousing, clutch disc, pressure plate, flywheel and pilot bushing
Suspension: AJE front coilover suspension, crossmember, A-arms, ball joints and tie-rod ends; Bilstein rear shocks; Eaton rear leaf springs; Hotchkis Sport Suspension sway bars
Brakes: Baer Brakes calipers and rotors upgrade
Wheels & Tires: 17×10- and 18×12-inch custom U3 design by Art In Motion; Nitto Tire NT555 255/40ZR17 (front) and NT555 R305/40R18 (rear)
Exterior: Rocket Bunny bodykit; custom U3 rear emblem; Maverick Man carbon-fiber Grabber-style hood and trunk; 09 Racing carbon-fiber fender mirrors; Topolino front grille, taillights and hood hinge; Dapper Lighting headlights; White PPG paint and body work by LGE-CTS Motorsports; Pilkkington Classics windshield, rear window, door and side windows installed by Alfredos Auto Glass
Interior: Carbon Signal carbon-fiber dash, package tray, gauges, center console, headliner and upholstery; Cerullo Seats; Maverick Manic clutch pedal and seat rails; NRG Innovations custom U3 steering wheel and quick-release hub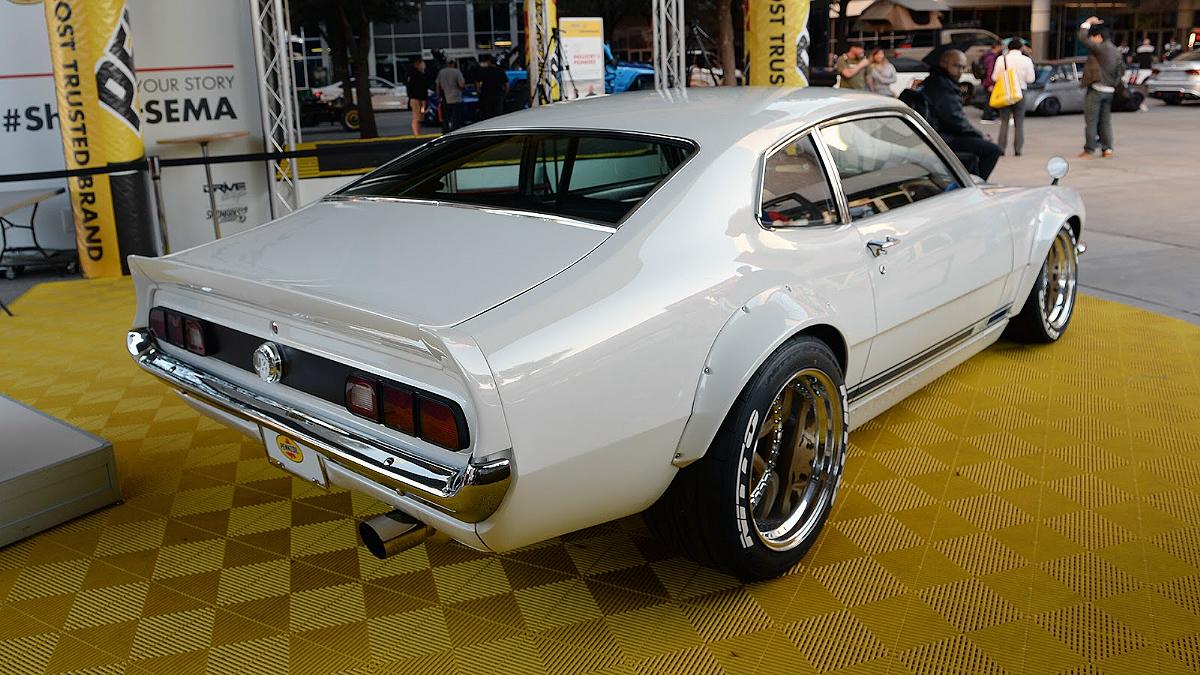 Video:
Photo Gallery:
Click the photos to enlarge.