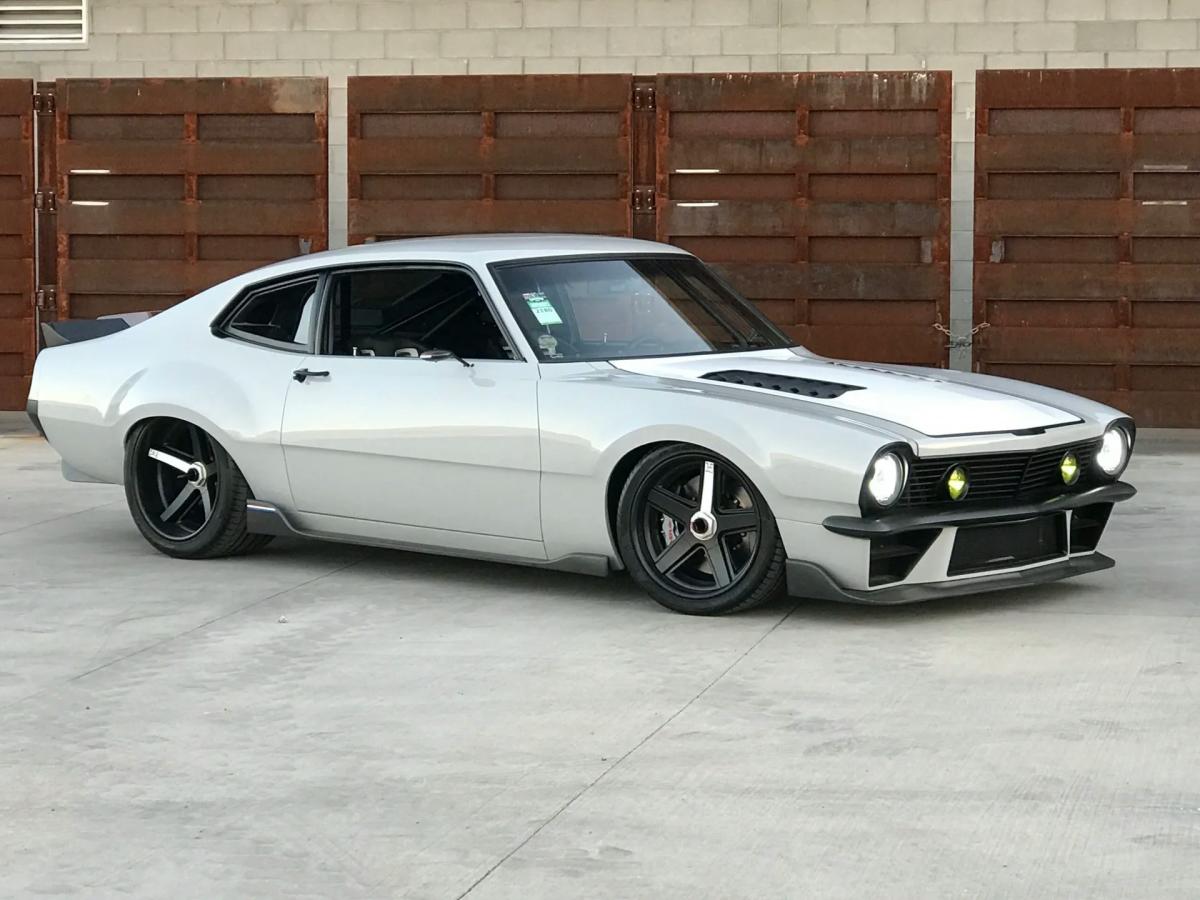 Introduced on April 17, 1969 as a 1970 model, the Maverick was based on the 1960 Falcon that was falling out of public favor due to the popularity of the Mustang, the ultimate Pony Car. The Maverick was introduced as an import fighter, but its initial powerplants were 170, 200 and 250 ci straight sixes. However, in 1971, Ford added a 210 hp 5.0L 302 V8 to the long nose fastback and suddenly, the rear-wheel drive Maverick was able to flex its muscles—it was a contender. That said, and despite sales of almost 600,000 in the first year, it was still never high up on the hot rodder's list of must dos.
Jimmy Shaw approached the crew at Greening Auto Company wanting them to build his 1971 Ford Maverick for multiple uses, and with plenty of horsepower. So 1,200 horsepower later, the car is capable of autocrossing, drag racing, road course racing and standing mile runs. It's equally capable cruising around town and down the highway. They worked with Glasurit/BASF to come up with the custom color to showcase the intensive body mods, their own custom machined wheels and other specialty machined parts. The Maverick debuted at the 2018 SEMA Show at the Baer brakes booth and racked up a list of the following awards:
Ford Design Award
Good Guys Golden Brick
Mothers Top Ten
Grand Turismo Best in Show
BASF Best Paint Award
2019 PPG Street Machine of the Year Award
At the Arkansas Mile Jimmy hit the 200 MPH marker with a speed of 169.364 at the 1/2-mile and a stout 202.748 at the mile.
After 200-mph run at Blytheville, the Maverick was scanned by Sony for their Gran Turismo sim racing game then it was on to Columbus, Ohio for the Goodguys' 22nd PPG Nationals where we picked up the 2019 PPG Street Machine of the Year Award.
Drivetrain:
The engine in this beast is a twin turbo, 427 ci Ford Windsor built by Bennett Racing Engines, Haleyville, Alabama. The fuel delivery is controlled by a FAST engine-management system that can operate in a docile street mode or race mode. The combination produces 1,200 hp and backing it up is a Bowler Transmissions 4L80E overdrive trans and a Currie rear axle. All of this is hung on a Roadster Shop chassis fitted with Baer brakes with XTR rotors.
Wheels:
The wheels are custom Greening five-spoke, pin-drive wheels. They're 18s in front and 19s in back fitted with 295/30/18 and 355/30/19 tires.
Interior:
The interior was custom built by Wayne McGriff's MM HotRod Interiors, Holly Pond, AL. It features custom buckets seats upholstered in black leather with Alcantara inserts and Stroud racing. The carbon fiber dash is highlighted by a Racepak IQ3 digital display as well as a Momo steering wheel. Incidentally, cool air is provided by Vintage Air and the sound system by Kicker.
Video:
More Photos (click to enlarge):