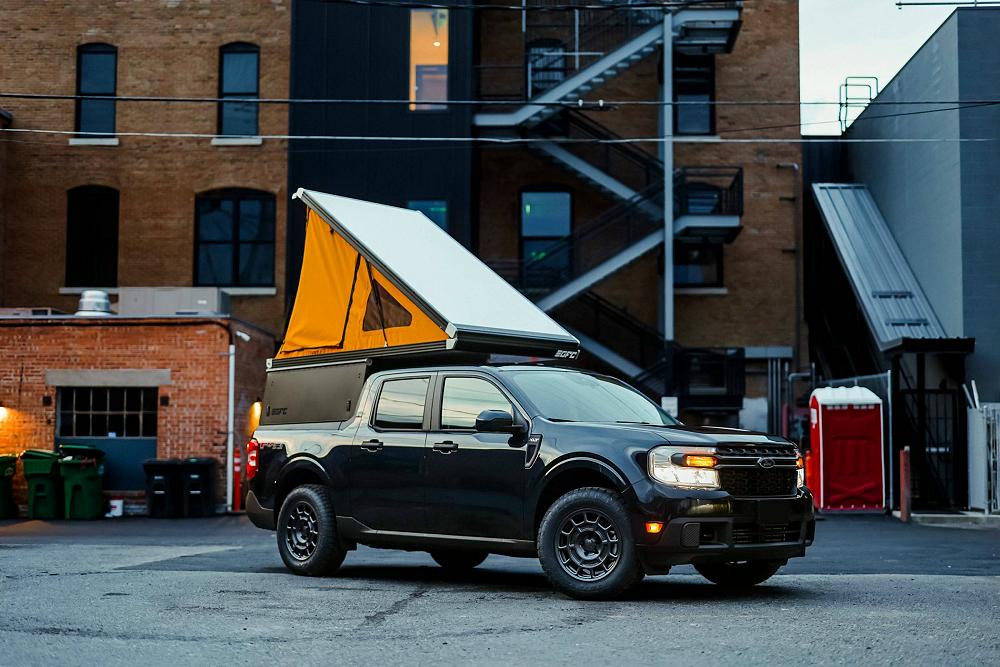 Let's start with some context: The average price of a new car in America is $48,043. But, with a GFC Platform Camper and a base Ford Maverick, you can own both a camper, and a brand new truck for a total of $28,695. That's over $19,000 less than that average new car.
But, can you get a Maverick? Ford sold 100,000 of them almost immediately when they first went on-sale last year. A number that surprised everyone, and exhausted Ford's ability to make them. Now, they're finally done playing catch up, and plan to open up order books for the 2023 model on September 15. So yes, you can finally buy a new Maverick without paying markups again.
Which leads us to our Maverick Camper. Precisely fit to the unibody truck's 4.5-foot bed, it comes with a 50 x 90-inch sleeping area, along with seven-and-a-half feet of standing height room inside.
We're confident this is the most spacious camper available for the Maverick. And, like all the rest of our Platform Camper range, it'll be the lightest, strongest, most durable, and most practical, too.
What about fuel economy? We developed the prototype camper on top of an employee's AWD, 2.0-liter turbo FX4. Stock, the EPA average fuel economy for that is 25 MPG. With the obvious caveats that results will vary by driver behavior and environment, the Platform Camper does not appear to impair the Maverick's fuel economy.
Helping there is the fact that, sized for the Maverick, the Platform Camper adds only 6.5 inches of total height to the vehicle (above the shark fin), and it weighs only 255 pounds. By replacing the Maverick's very tall shark fin with the much shorter one from a Ford Escape you could make the camper even lower. More on that soon.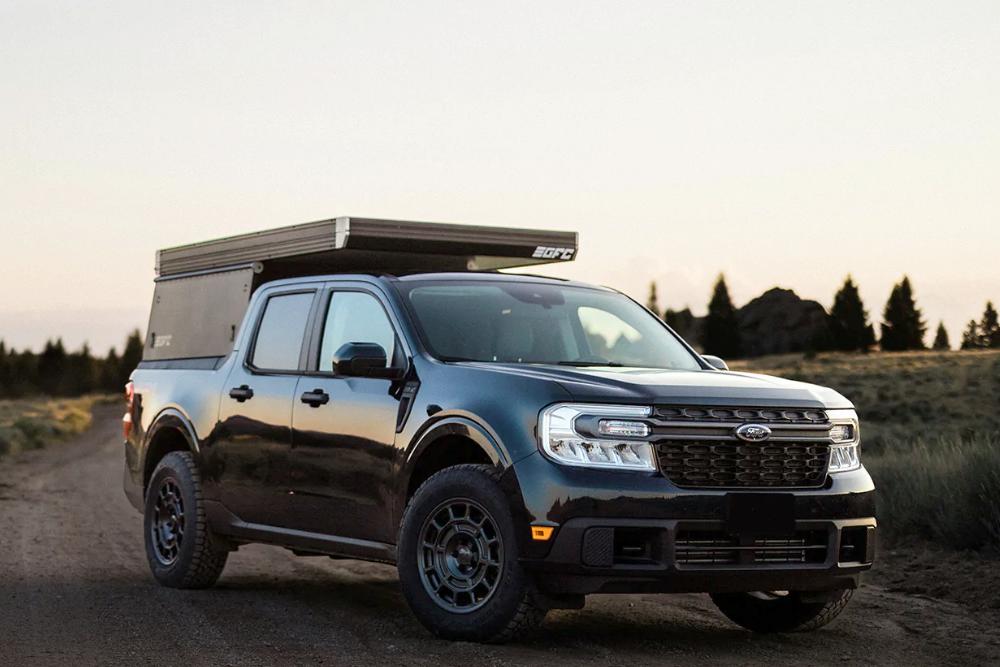 And the Maverick Camper retains all the rest of the Platform Camper's benefits. It's made using the same aluminum space frame (albeit sized down for the 4.5-foot bed), uses the same machined-from-billet components, the same lift panels, the same embassy hinges, the same modular floor, the same T-track load halo, the same translucent roof…you get the idea. Small truck, big camper energy.
Let's compare that to some other popular cars. Base MSRP for the 2022 Subaru Outback is $28,820. It seats five, has a decent amount of cargo space, and returns 29 MPG combined.
A base Ford Maverick XL Hybrid returns 37 MPG combined and also seats five.. Add $7,700 for the Platform Camper, and you've spent $125 less on a total package that returns significantly better fuel economy than the Outback, is equipped with vastly more secure cargo space, and includes your own personal camping cabana.
What about pickup trucks? MSRP for a base four-door, four-cylinder, two-wheel drive Tacoma with zero options is $29,315. That motor makes 159 horsepower, 180 lb-ft, and has to move 3,915 pounds. It returns 21 MPG combined.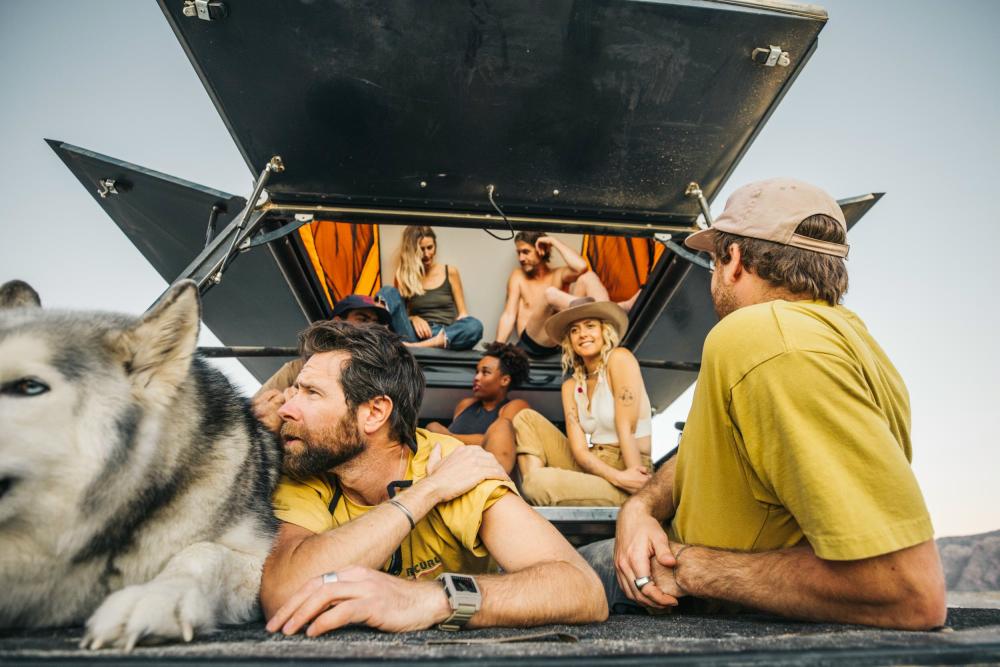 The Maverick Hybrid makes 191 horsepower, 173 lb-ft of torque, and, with a GFC onboard, weighs 3,929 pounds. It's also two-wheel drive, also has four doors, but even equipped with a the Platform Camper, costs $620 less, and returns nearly twice the fuel economy.
But what if you want the faster, more capable (and more expensive) all-wheel drive Maverick with the 2.0-liter turbo motor that returns 25 MPG combined? Does the same value proposition hold true? The starting price for that vehicle is $25,145. Add the $7,700 Platform Camper, and your total spend is now $32,845. That's still over $15,000 less than the average new car.
That again compares very favorably to the Subaru Outback. The cheapest you're going to to get into that car's 2.4-liter turbo motor is $37,020. That car makes 260 horsepower and 277 lb-ft. It weighs 3,921 pounds and returns 26 MPG combined. Even with the camper onboard, the AWD Maverick weighs just 65 pounds more. So, with the camper-equipped Maverick, you're saving over $4,000, gaining a massive amount of cargo space, a place to sleep, a freakin' cabana, and thanks to the Ford's excellent 8-speed automatic, ditching the Subaru's lousy CVT.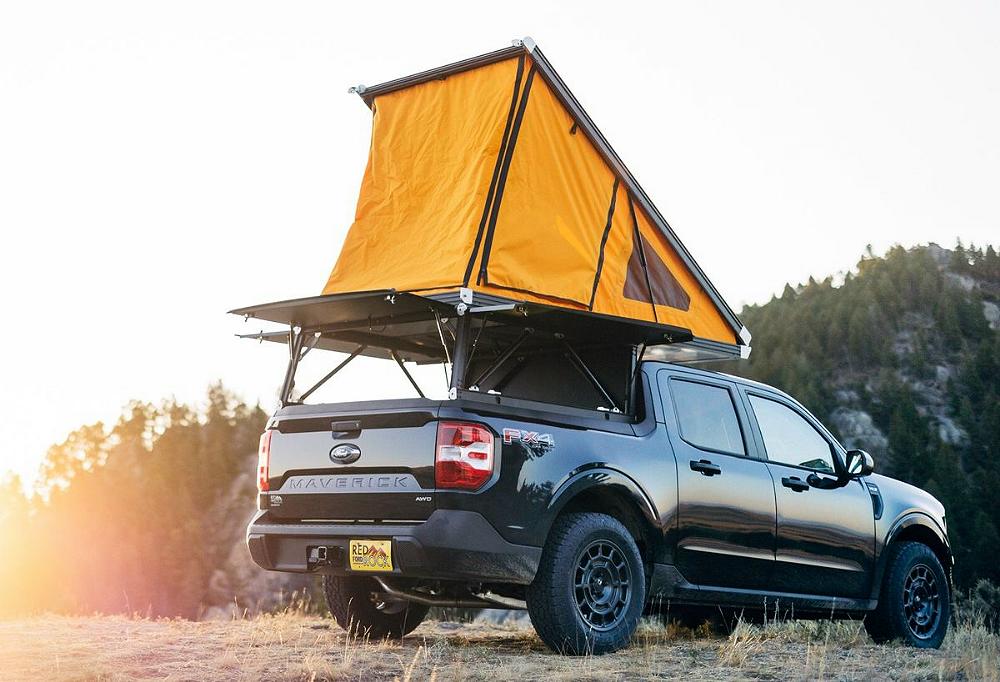 The cheapest 4WD 4Runner starts at a positively ridiculous $41,315. It weights 4,805 pounds, and makes 270 horsepower and 278 lb-ft of torque, which reaches the wheels through an absolutely ancient 5-speed automatic transmission. Fuel "economy" is just 17 MPG combined. The camper-equipped Maverick will be faster, better to drive, do all that cargo-sleep-cabana stuff, save you $8,470 up front, and a bunch of money on gas throughout the vehicle's life.
"For someone looking to get out and have adventures every weekend, I can't think of a better combo," says GFC Founder and CEO Wiley Davis. "The Maverick is easy to park, easy to drive, and will take you almost anywhere you'd want to go. And the GFC Platform Camper is an American-made product that turns the Maverick into a blended indoor-outdoor living space that works like a portable cabana. All that for less than the purchase price of a camperless Tacoma seems like the hot ticket if you ask me."
Resource:
More photos (click to enlarge):