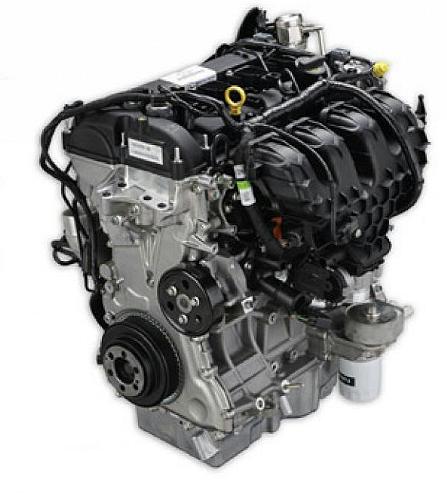 The Ford 2.0L EcoBoost debuted in 2010 as a turbocharged, inline-4 cylinder direct injection gas engine. Ranging from 200-252 horsepower and 221-270 lb-ft of torque, the engine combines modest power levels with great fuel efficiency. This engine was built off the 2.0L Mazda L-Series engine block, but the EcoBoost used its own unique head, a different fuel injection system, and twin-independent variable cam timing (Ti-VCT).
2ND Generation 2.0L EcoBoost
In 2015 the Ford/Mazda partnership lapsed and Ford designed its own 2.0L EcoBoost engine. This new engine received a new aluminum engine block, new cylinder head with an integrated exhaust manifold, and changed to a BorgWarner twin-scroll turbocharger with an active wastegate.
In addition to a higher compression ratio, the fuel system and oil cooling system received upgrades. The overall result was better gas mileage and more low-end torque, making it more capable as a tow vehicle.
2.0L EcoBoost Common Problems
Cracked Exhaust Manifold
Turbo/Boost Control Solenoid Failure
Low Pressure Fuel Pump Failure (LPFP)
Carbon Build-Up
1) 2.0L EcoBoost Cracked Exhaust Manifold
Both generations of the 2.0L EcoBoost have an integrated exhaust manifold design. The manifold is made of stainless steel and integrated directly into the cylinder head. Exhaust gas temps can reach excessive temperatures, especially when towing or driving up grades. The constant heat cycles created by engines and fluctuating temperatures expands and contracts the stainless steel exhaust manifold. This expansion and contraction along with a vibrating engine can form hairline cracks.
Symptoms of a Cracked Exhaust Manifold
Whistling, whining, or chirping noise coming from the engine
Poor performance
Lack of acceleration
Excessive boost or psi from the turbo
Exhaust fume smells inside the car
Driving with a cracked manifold can damage the turbocharger because it makes the turbo spool excessively. A damaged exhaust manifold or damaged turbo can be an expensive repair.
2) Turbo/Boost Control Solenoid Failure
The turbo control solenoid or valve, also known as a boost solenoid, is responsible for controlling boost. It is an electronic component that controls the wastegate on the turbo via vacuum pressures and the ECM. The wastegate controls the flow of exhaust gases to the turbo turbine, essentially controlling how much the turbo spins and how much boost it produces.
When the boost solenoid goes bad, it improperly opens and closes the wastegate. When this happens, the turbo either makes too much or not enough boost.